With gardening and landscaping set to continue as one of the world's favorite past times, and with continued market growth predicted this year, there's no better time to team up with planter manufacturers like Vietnam Creative Design Manufacturing to grow your landscaping business or add a range of battle-tested planters to your catalog.
In fact, you'd be missing out on one of the biggest industry trends to hit the US, UK, and the global flower pots and planters market.
In this article, we'll take a look at the industry outlook for 2022, trends and challenges, and how CDM can help you transform your business. Let's get started!
Flower Pots And Planters Market Overview
The future outlook for the landscape services industry is strong, with market insights predicting average annual growth of 4.2% for the 2022-2027 forecasted period.
The pot plant industry and planters market is expected to benefit from an increase in construction spending, as well as continued growth in the real estate market.
The US Federal funding's allocation of US$490 million through The Infrastructure Investment and Jobs Act to support urban forests and trees has also raised hopes for the industry.
The 'work-from-home' shift seen in 2020 has also changed working cultures, and a 'hybrid' between the office and home is the new normal across the global market. As such, homeowners continue to outsource landscaping services, which is also expected to drive industry growth.
Confidence in growth for the landscaping industry is trending upwards. The 'State of the Industry Report' notes that only "3% are not confident the industry will grow in 2021 compared to 10% last year".
Flower Pots And Planters Market Analysis
Next, let's take a look at the global market share and demand for pots and planters.
The flower pots and planters market has been segmented on the basis of product type, material type, distribution channel, and geography.
By product type, the market is classified into hanging baskets, wall-mounted planters, window boxes, patio planters, and others. Although there are many other planter shapes available.
On the basis of material type, the market is segmented into plastic, metal, fiberglass, ceramic & terracotta, wood, stone & concrete, amongst others. Plastic flower pots hold the largest market share in the global flower pots market due to their availability, cheap prices, and modern design flexibility.
Geographical Analysis Of The Planters Market
According to market research, results show that the flower pots and planters market is divided into North America (the USA and Canada), Europe (UK, Germany, France, Spain, Italy, and the Rest of Europe), Asia Pacific (China, India, Japan, Australia & New Zealand, and Rest of Asia Pacific), Latin America (Brazil, Mexico, and Rest of Latin America), and the Middle East & Africa.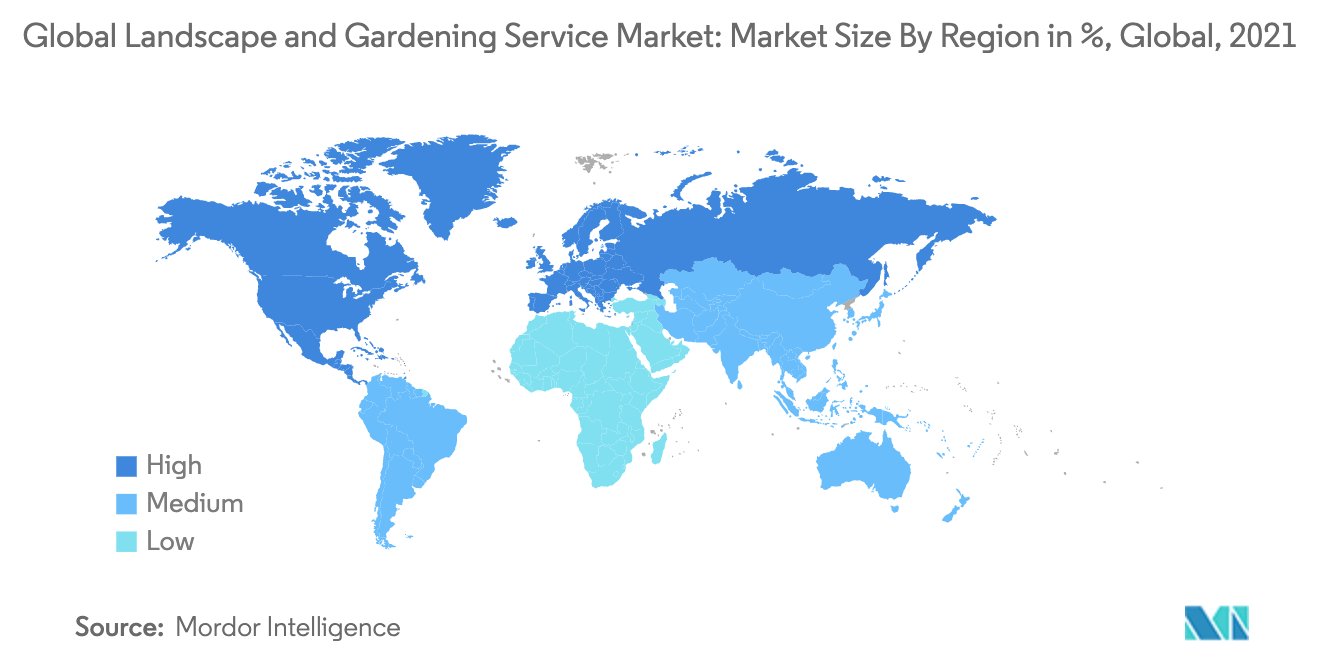 In Europe and North America, flower pots hold the largest global market share. Planters are popular in European countries like Germany, France, and the UK, where there are longstanding gardening traditions. In North America, flower pots are also popular, with the region home to a high number of plant nurseries and horticulture centers.
In Asia Pacific, flower pots are expected to see the highest sales in the next few years owing to an increase in awareness about the benefits of gardening and increased government spending on the landscaping of tourist areas. Countries like Indonesia, Malaysia, and Vietnam have clocked more than 20% annual gains in the past two decades, which has coincided with a 33% increase in wellness trips to the region.
Latin America and Africa have the smallest markets. This means there is a stark difference in the market size, geographical analysis, and market trends for pots from different regions.
Route to the flower pot market in 2022
Whether you are investing in and supplying flower pots in North America, Europe, Asia, Latin America, Africa, or China, the route to market is essentially the same and there are several things that need to be taken into consideration.
We suggest the following steps before starting your foray into the planters industry:
Develop a SWOT analysis to find out one's strengths and weaknesses
Conduct market research to find out key players and competitors
Find out the planters market growth and market segments in your target region
Identify the best business strategies to enter the market and meet your target sales
The next step is to find a wholesale or manufacturing supplier. Consider buying from a contract manufacturer to cut costs, or specify your designs with an OEM provider to launch your own planter brand.
Current And Future Industry Trends
The future trend for the landscape services industry looks promising. With higher growth rates than most industries, the landscape services industry continues to evolve. However, to reap these advantages, it is important for companies within the industry to stay ahead of the competitive landscape and adapt to changing trends and major market shifts.
Some of the current and future trends that are likely to keep impacting the landscape services industry include:
1. A Growth In Residential Landscaping
The rising population is increasing the construction of residential units, creating a growing demand for outdoor living spaces.
The flower pots and planters market is also benefiting from an increase in per capita disposable income, which is allowing more people to afford landscape services. The Landscaping Business Trends Report 2022 USA tells us 31.6% of US households are expected to earn more than US$100,000 this year.
More people are also spending time at home, with 87% and 84% of large US and UK companies, respectively, having adopted hybrid working models. The result of more time spent at home is more spending on landscaping and gardening services and products.
2. A Focus On Sustainability:
Sustainability is becoming increasingly important to consumers, and this is likely to have an impact on the landscape services industry.
The industry has taken note – the National Association of Landscape Professionals made sustainability and climate control a top theme this year, and 65% of landscape architects recommend sustainable solutions to clients.
In the future, companies within the industry will need to focus on sustainable practices in order to appeal to environmentally-conscious consumers. The list is endless, but they include initiatives like using native plants and recycled materials in landscaping projects; better stormwater management, more permeable pavements, and solar-powered outdoor lighting.
3. Boost In Urban Landscaping Needs
The growth in urban landscaping is set to continue. Spending allocated to landscaping needs and initiatives is likely to increase, as calls to protect the environment and boost the economy increase.
Examples include the 'Healthy Streets' program, which aims to increase the coverage of urban forests and canopies across the US; or the 'Levelling Up' UK government agenda, which has pledged £39 million to refurbish UK parks and green spaces.
These initiatives are likely to increase the demand and spending for the landscape servicing industry, especially grounds maintenance, fertilizers, soil treatment, and other services.
By being aware of future trends, companies can make the necessary changes now in order to position themselves for success in the future.
Future Challenges
Despite these positive trends, most planters' market insights point to various challenges for the landscape services industry in the coming years. These include:
1. Climate Change
One of the biggest challenges facing the landscape servicing industry is climate change. With weather patterns becoming increasingly unpredictable, landscapers must be prepared for anything.
From droughts to floods, extreme weather conditions can have a devastating effect on landscapes, causing damage to plants and property. It is therefore essential that landscapers have contingency plans in place to deal with any eventuality.
2. Plant Shortages:
Supply chain problems continue to put pressure on plant suppliers. Plant nurseries are still yet to fully recover from the 2009 recession, according to 'Landscaping Business Trends Report 2022 USA', and a backlog dating back to the covid-19 pandemic is resulting in more plant shortages. This could lead to uncertain delivery times and cancellations of orders.
3. Growing Demand For Services
Another challenge facing the landscape servicing industry is the ever-growing demand for services. As more people move into urban areas, the demand for landscape services such as lawn care and tree removal increases.
This increase in demand can put a strain on resources, making it difficult for landscapers to keep up. In order to meet this demand, it is important that landscapers invest in the latest equipment and technologies to make their jobs easier and more efficient.
4. Workforce Challenges
An aging workforce: As more baby boomers retire, there will be a decrease in the number of people available to work in the sector. This could lead to a shortage of skilled workers, which could hamper the ability of the landscape servicing industry to meet future demands.
Highly seasonal work: this can make it difficult to retain staff during slower months. In addition, many landscape services companies are small businesses with limited resources, which can make them vulnerable to changes in the economy or regulations.
Labor shortages: covid-19 has had a drastic effect on recruitment, and 64% of landscaping businesses consider it their biggest challenge. Labor statistics show the participation rate in April 2022 was 62.2% in the US, still down from 63.4% in early 2020. The same trend is evident in the UK, where the participation rate is at 63.1% (March 2022), down from 64.4% (early 2020). Finding quality labor will continue to challenge the industry, resulting in a backlog of servicing and maintenance jobs.
5. Fuel Costs:
Uncertain geopolitical events like the Russo-Ukrainian conflict continue to put increase fuel prices and energy insecurity, and 2022 has seen a drastic rise in fuel prices. Most private gas and fuel industry experts have estimated the costs to remain the same or be close to US$4 per gallon. This is especially worrying for smaller businesses, which will be forced to increase the price of their services, cut back on spending, or look for alternative energy sources like propane or solar-powered batteries.
Despite these challenges, the landscape servicing industry is poised for growth in the years ahead. With advances in technology and increasing demand for services, the sector is well placed to take advantage of the opportunities that lie ahead.
How CDM Can Help Landscaping Companies
1. CDM Offers High Quality, Weather-Resistant, And Durable Pots
Years of innovation and research have helped us produce some of the highest quality pots on the market.
Made from high-grade fiberglass composites, we give each pot the utmost attention to detail to ensure the highest quality standards. Built to last in extreme climates – from freezing winters to sizzling summers – CDM offers a range of indoor and outdoor pots for commercial and home use. And with competitive prices to boot, you'll find it hard to find a better value product than ours.
2. Exceptional Craftmanship – With Your Customers In Mind
Vietnam's artisan and global flower pots industry is thriving, giving us excellent access to talented craftsmen and designers. With over 15 designs to choose from – your customers will have pots inspired by centuries of tradition and innovation from the best artisans Vietnam has to offer.
3. Guaranteed Quality
Whether you're after wholesale or bespoke services, as manufacturers in Vietnam we'll ensure all your products are made with the highest-quality material. Our Made in Vietnam planters are internationally recognized. All our planters undergo strict quality control throughout the designing, production, and delivery process. This means, no cracks, bumps, lumps, or anything below perfection – guaranteed!
4. Vietnam: A Fantastic Place To Do Business
Being based in Vietnam comes with a whole host of benefits when it comes to doing business and importing fiberglass products and planters.
Import and export paperwork is easy
Low trade tariffs mean frictionless and competitive trading
International shipping and distribution reach customers everywhere
Vietnamese people and corporate culture place a high value on nurturing business relationships
Launch And Grow With CDM
This landscaping industry has been growing in popularity in recent years, and it shows no signs of stopping in 2022. With our high-quality and great value products, we can ensure you are ready to take advantage of the many growth opportunities in the coming years.
Feel free to contact us to find out how we can transform your business with our fantastic range of planters. Prefer to speak over the phone? Give us a call and we'll be right on hand with a free quote, or to talk you through any concerns or requests you may have.